SKA at JKA Italy International Gasshuku in Vieste, Puglia; August 2016
August 26, 2016

-

August 28, 2016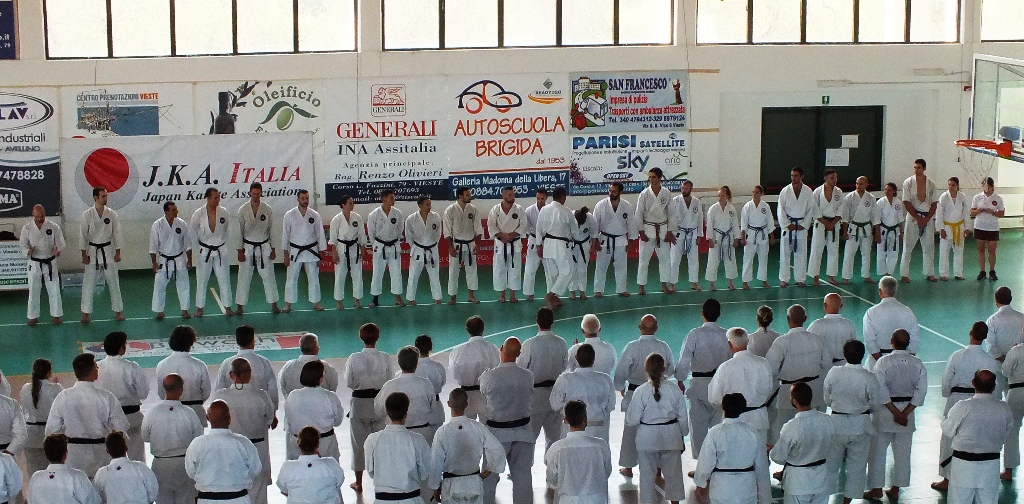 SKA at JKA Italy International Gasshuku in Vieste, Puglia; August 2016
On the 26th August 2016,  25 SKA members accompanied SKA Chief Instructor Sensei Edward Aquilina,  Sensei Kenneth Farrugia and Sensei David Salem Rizzo to beautiful Vieste in Puglia, Italy to participate in the International Gasshuku organised by JKA Italy, between the 26th and 28th of August.
The first session took place at a dojo in Macchia di Mauro, on arriving from a two and a half hour drive from Bari to Vieste. Over 200 Italian Karatekas were present, amongst whom also representatives from JKA Sardegna. Training was headed by Sensei Takeshi Naito 7th Dan JKA, Chief Instructor of JKA Italy and Sensei Masao Kawasoe 7th Dan JKA WF, Instructor of JKA England and Scotland.
Three-hour sessions were held every day over three days. A Kata Competition also took place on Saturday 27th August, during which SKA Senpai Keith Falzon won 1st Place in the Senior Male Category. SKA Malta was presented to all attending JKA Italy members by Sensei Naito, who commended our constant commitment in authentic Karate and our strong participation despite the long hours of travelling.
SKA would like to thank JKA Italy for their hospitality and look forward to our re-encounter next month.
Oss!