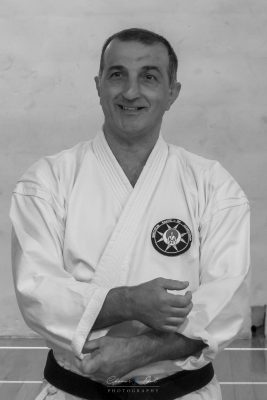 The founder of JKA WF Malta is Sensei Edward Aquilina. With more than 30 years of experience in Karate, Sensei Edward Aquilina's commitment towards training, and towards teaching authentic and high-standard Karate, shows through his successful achievements.
Having received instruction from an English instructor, Sensei Colin Williams, who in-turn was taught by renowned Japanese instructors, Sensei Aquilina always makes sure to improve his Karate knowledge through constant training. Additionally, he is committed in passing this knowledge in the regular (and extra) sessions that he delivers to his students and guests. Starting with a small club, he managed to establish an organisation that has a large number of committed members, of various ages, and which is recognised by the highest Karate Authority in Japan and Worldwide. (JKA World Federation). 
Administration
JKA WF Malta is administered by a committee, made up of a small number of senior members. The committee is responsible of helping the chief instructor, Sensei Edward Aquilina, in maintaining previous accomplishments while achieving new ones. This is done through constant Karate training, and by various discussions held between the Chief Instructor and committee members. The goal is to help all members of JKA WF Malta reach the ultimate goal of the organisation, that of practising and learning true Karate. All final decisions are taken by the Chief Instructor.
Instruction
Instruction is always done by the Chief Instructor, or qualified black belts, and under the supervision of the senior instructors (Senseis – 3rd Dan and above).
JKA WF Malta is privileged to have several members with professional qualifications and experience in areas such as:
Education
Physiotherapy
Medicine
Health and Safety
Law & Order
Legislation

Rescue/First Aid/Fire Fighting
Social Work
Management in public and private sector
Marketing
IT/Networking/Programming and Web Design
These members volunteer their time and expertise to ensure that JKA WF Malta has all appropriate policies and structures in place to enable it to run in a professional way to the benefit of its membership.
JKA WF Malta has worked to develop standards and guidelines to help ensure that its instructors teach in a safe and professional manner. These include:
An instructor Qualification programme
Tailored First Aid guidelines
Guidelines for Teaching Children
A detailed Karate Syllabus
Training with JKA WF Malta
JKA WF Malta caters for men, women, children and senior citizens equally, keeping in mind the respective needs and restrictions of each group. Anyone who is in reasonable health can train Karate. Serious training will guarantee improvement in health, self-awareness, self-confidence and self-esteem. JKA WF Malta students have a good reputation wherever they go, both locally and abroad. This is because of our disciplined training structure and the emphasis placed on attitude.
Costs of training with JKA WF Malta
Karate with JKA WF Malta is a reasonably inexpensive pursuit. JKA WF Malta membership fees are low compared to many other sports and hobbies. The main equipment needed is a Karate suit (a Dogi) and some protection equipment. As JKA WF Malta is sponsored by one of the top Karate equipment brands – Tokaido – all necessary equipment can be bought from the association itself at wholesale price.
The benefits of Karate training with JKA WF Malta
The utmost benefits gained through training Karate with JKA WF Malta are the ones directly related to the actual martial art. Physically karate is an excellent activity for the body. This is applicable to all ages and genders. Karate builds tremendous strength through stronger bones and muscles, and also stamina. It especially helps the body to become less susceptible to sickness and injury. Karate is proved to help in dealing with the many life challenges faced in today's society. Commitment, Self-control, Patience, Honesty, Courage, Good manners and Discipline are only a few of the benefits gained through serious practice. Such values are beneficial in all aspects of life throughout.
JKA WF Malta is always striving in providing opportunities for its members to continuously develop in authentic Shotokan Karate. Senior students travel outside Malta in search of the best Shotokan masters. We believe that the higher the level achieved by the senior grades, the higher the instruction level would be.
Gradings
Students are entitled to take grading examinations after set periods of training and on recommendation by their respective instructor. The gradings are conducted by the association's senior instructors; this helps maintain a uniform National standard. There is a grading syllabus for all levels.
First Aid and Child Safety
The association has its own Doctor and Physiotherapist, both willing to offer their professional advice whenever required in the dojo. In the unlikely event that a member suffers an injury during training, a number of qualified first aiders are always available to offer their immediate support.
All children are supervised by two dedicated Child Protection Officers, who are also Police officers in their everyday lives.
Information for club members
Information is regularly displayed on the JKA WF Malta website and shared on the respective Facebook page (www.facebook.com/jkawfmalta). A closed Facebook group also exists for the sharing of more specific information. Urgent information may also be passed via sms.
Further information
For further information feel free to Contact Us section, where a representative will tackle any of your queries to the best of their abilities.